Vehicle & model:


VW Beetle 1303 super beetle


Year:


1975


Engine details: (include donor vehicle model and year or special mods required to fit)


Subaru Legacy Turbo 4wd estate 1993 198 BHP as standard


MPG


approx 25mpg


1/4 mile time


high 11's


0-60


4.4sec


Top speed


had her up to 125mph - on a private road honest!! had a little more to give...


Personal details:




feel free to ask me any questions at getthegimp@hotmail.com or simply PM me on VWKD!!!


Location


Coulsdon, Surrey nr Croydon and 3 mile from M23 turn off on M25, - any vee dubbers welcome to pop round and check out the motor if they are in the area - email me to sort something out!! i could drive locally to hook up too as im always up for meets and chats regarding our conversions..


Core suppliers/ links that you found useful.


NF autos are an excellent KIT car esque resource for specific conversion parts such as wiring, fan switches and cooling grills etc
http://www.nfauto.co.uk/
'Scooby clinic' in chesterfield will source any new Subaru parts...
http://www.scoobyclinic.com/
I personally found 'Grade A' subaru the most effective subaru breakers....
http://www.gradea-subaru.co.uk/
check out Ricolas website online for an informative picture based guide to the beetle subaru conversion, very informative although yet to be completed, come on Rich!!! ..
http://www.ricola.co.uk
as well as the the 'aussie vee dubbers' forum, lots of VW scooby conversions on there and excellent advice through direct experience...
http://www.aussieveedubbers.com/forum/
use 'Scooby net' for any subaru related advice or questions...
http://www.scoobynet.com/
the guys at 'TSR Drag Racing' are good for advice through solid years of subaru conversion experience. With a individual shout to Mark Skeen of TSR for his work on the build.
http://www.tsrdragracers.co.uk/
and Darryn Coleman (DCCustoms) up in Birmingham knows his stuff about beetle to subaru having created a meticulous street legal example himself
http://www.dccustoms.co.uk/
Richard Jones of http://www.rjes.com was also helpful and will be a good source to those in the future now that he has gone full time.
and of course VWKD and its highly knowledgeable collection of very helpful members which without the collective advice my conversion would not be complete!!!
http://www.vwkd.co.uk
I found Adrian Flux the most competitive for insurance and pay £500 a year with 4 years no claims..
http://www.adrianflux.co.uk/

I do also have some conversion parts new and unused for sale that will assist anyone trying to complete an engine conversion... http://www.vwkd.co.uk/bb/viewtopic.php?t=1083
I also now have 3 additional gauges boost, water temp both at 52mm and Tacho 100mm with shift light available for your conversion.. all new and unused due to a delivery problem.. I can also throw in 3 metres of boost cable which you will need as the distance from the boost solonoid to the gauge is front to rear... I can supply images if the gauges upon request..



Below is the picture based walkthrough of my conversion... enjoy!!!



the original 1303s German looker - cup 3 17 inch porsche alloys 38 licks of paint and a 2.2 aftermarket mostly SCAT air cooled twin carbed pushin on 130bhp 0-60 maybe 8.5s cos of the heavy porsche boxster wheels.. still not enough!!! the dream to create a car with a unique, characteristic and soulfull look that is exactly how i want it combined with raw unadulterated power and performance!! hence.. bring on the flat four subaru legacy turbo which when fitted actually looks like it should be there!! by about 1/8th of an inch mind!!!




the cutting begins!!! bulk head and spare wheel well must go to make room for engine size + including air/water chargecooler and main rad, chargecooler rad and suction fan respectively..

before cutting at rear with air cooled removed!!


and cuuuuuuuuuuutt!!


enough to build a small go kart!!



old gearbox out for a rebuild at Bears based in Birmingham!!

this b*tch is bloody cemented in!!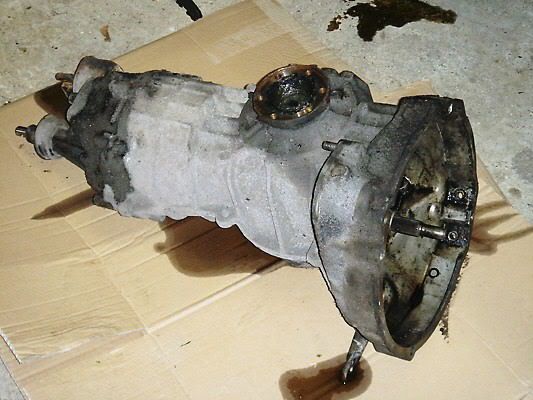 shes come back nice... £850 recon with 091 transporter idler fitted to first gear.. 3rd and 4th welded synchro hubs with stronger teeth and uprated ring & pinion 3.88. All said this should be enough to cater for the extra power of the Subaru but progressive power will be the way to keep this on the road to stay on the road..



with Heavy duty reversed trans cradle ( this is so i could move gearbox forward 4.5cm) and mid mount attached!! this was vital in acheiving stability. Also the last thing i wanted was mass vibration and consequential noise pollution!! There is substantial noise pollution if solid mounting is employed. In my opinion this is not suitable for a street car and is widely used in drag racing to acheive extra performance. I wanted this to be set up corectly for consistent driving on the street with the occasional run on the track at say a 'run what ya brung'.




all stripped.. where do we start from here!!



new bulkhead required for one!! this was a welded box section subset from the original bulkhead to allow room for the air/water chargecooler and fitted with a lid to gain access behind the engine to ancillaries such as the turbo and exhaust system.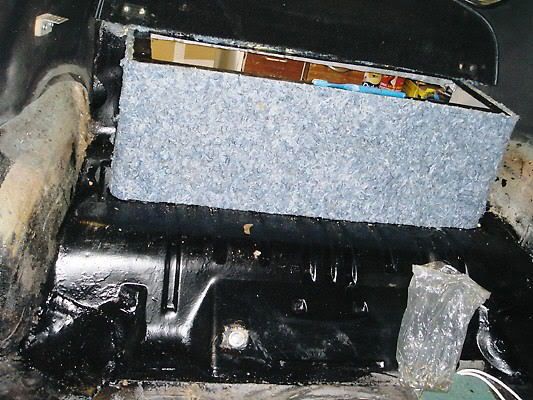 at the beginning... all degreased and wire wheeled using rust remover.. a little application of rust bullet to the new bulk head makes a massive difference..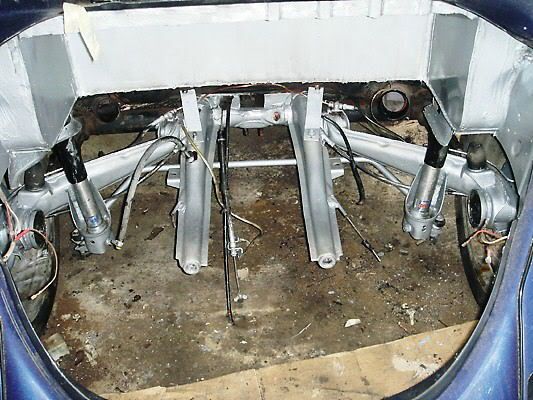 time to put near rear CVs and axles in as well new gearbox back in!! also protech rear shocks to support extra 80kg in weight of the scooby engine!!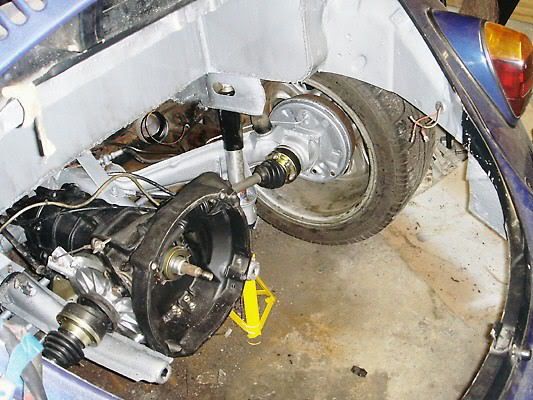 ecu and modified loom now goes on.. will need to fabricate some further housing for all this wiring despite the loom being reduced by about 85% from the legacy original!! wiring diagrams are available if you wish to modify the loom yourself. I personally had a professional do it as its not an easy task in my opinion.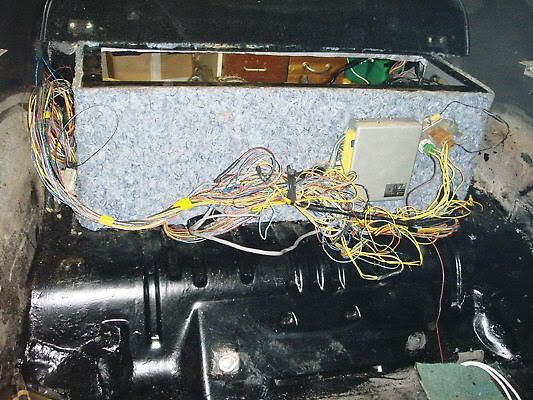 now completely installed sound proofing which helps on the inside but still sets off car alarms when driving past on the outside!! this is despite not solid mounting and employing engine bracing!!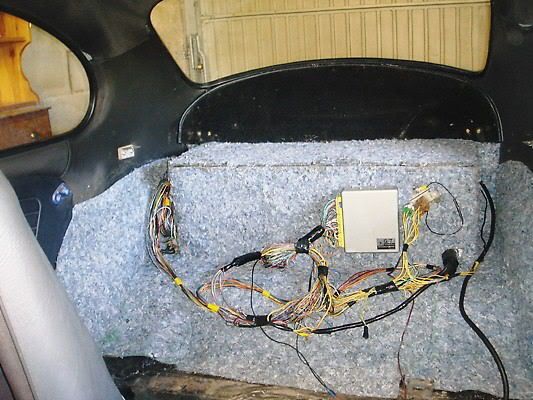 porsche boxster brakes added with 4 pot calipers!! also new master cylinder and brake pipes from kerscher.. kerscher progressive springs changed my whole drive when added originally i cant recommend them enough!! thanks again ricola for the original plug!! after driving around for over 500 miles i cannot stress how important the brake upgrade is in stopping your 240bhp power plant.. However balancing the brakes front/rear is also vital otherwise driving in damp conditions is made difficult. I would definately advise a 60front/40rear weighting ratio and if you upgrade to porsche on the front I would advise going porsche on the rear too otherwise you'll get considerable wheel lock in the wet...considering the brief of this conversion was to create a reliable daily driver with performance brakes were high on the priority list..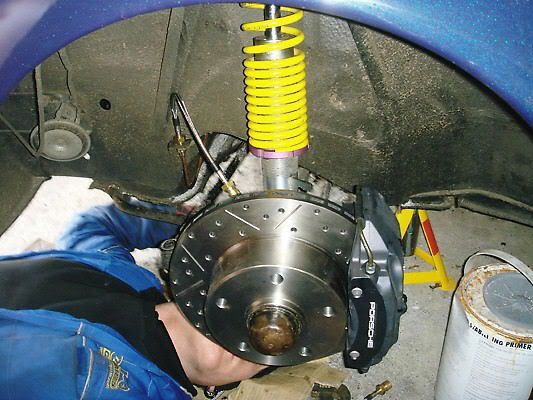 standard legacy chargecooler rad, main after market rad with 60mm core and 13inch kenlowe extraction fan added.... the main rad is an aftermarket radiator made to measure to fit into the space available in the spare wheel well!!



add a fuel pump and chargecooler pump underneath and connect up all the copper piping!! beware that the main fuel pump should infact be below the tank to maximise fuel flow to the engine at the rear.. also be aware that as well as adding a return to your fuel tank to recycle unused fuel it is advised that you create a new 10mm outlet from the fuel tank as the original is only 6mm and the fuel pump inlet is likley to be 10mm.. you are likely to have fuel and power hesitation problems under maximum boost if you do not make this amendment.. if you want to do this properly to stay on the road consistently do not leave anything to chance is what I say..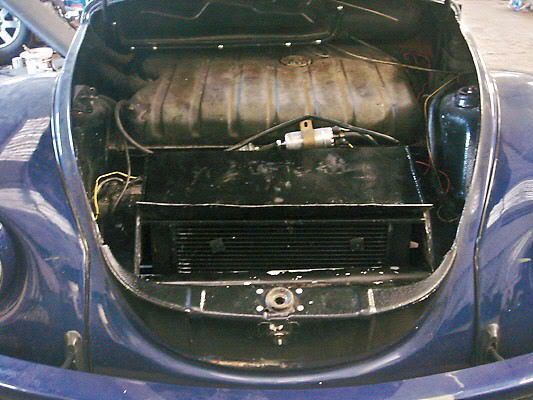 7 cooling pipes underneath in total.. making this baby water cooled was harder than i thought.. 2 main rads lines at 38mm. 2 chargecooler lines at 15mm . 2 fuel lines from stronger cupronickel 5/16 in size and 1 6mm overflow pipe to expansion bottle at rear.. an MOT nightmare trying to tuck these in close and out the way of steering mechanism and suspension arms as well as keep it neatly tucked away from road harms way on the floor pan!! needless to say bleeding this system and checking for airlocks is a test and a gradual process so PLEASE NO KNUCKLE BENDS and learn from my mistakes!! my main advice on cooling is to keep the 2 main rad lines centrally placed on the floor pan and direct as possible.




cupronickel fuel lines x 2!!



chargecooler lines copper 15mm fabricated around the passenger side



right then the engine.. subaru legacy turbo estate from 1993 donor.. 198 bhp as standard and to be honest a beautiful smooth drive in its original state.. driving it originally only served the fuel my ambition as to how quick it could be in the massively lighter beetle... i had engine fully reconditioned by scooby clinic (£850)in chesterfield with all block internals replaced i also had top end cleaned with head gasket kit from ebay.. i have also replaced the water pump and alternator but all other ancillaries currently seem fine desipte the 130,000 mileage of the donor.. pretty bullet proof those scoobys!! it goes without saying that cambelt and plugs were renewed.. i must at this stage that its important to reverse your coolant manifold on top of the engine otherwise you will have to run extra pipework and in a tight fit engine bay anyway its best to get as much room as possible. This is required because your pipe now faces the rear of the engine to the front of the beetle as opposed to the front when it is in the subaru..


see photo above.. you will need the correct clutch kit, (flywheel, pressure plate, clutch disc and adaptor plate) from either DS Tuning Germany or Kennedy Engineering USA.. If you want to run a Subaru Turbo a standard bus clutch IS NOT SUFFICIENT and you will experience clutch slip.. if you take the Kennedy route with a turbo I would recommed a Kennedy Stage 2.. Remember that the adaptor plate has to be cut to fit and countersunk bolts are required to fit gearbox to the engine.. see Ricolas website for excellent info on this..



its impossible in a photo to explain how much of a b*tch that was getting into the car even whilst removing the rear valence!! talking about size alone let alone the weight!! when i reversed the HD transcradle it enabled the gearbox to be moved forward by 4.5cm which was enough to not have to cut into any visible bodywork at the rear.. which if your running a Subaru turbo will DEFINATELY have to be done if you dont move the gearbox forward.... by the way this meant that the shift rod also had to be shortened by 4.5cm accordingly!! its a very tight fit and you talking mere millimetres in clearance... its a good idea to have your rear valence and rear wings removable if you need to gain access to or remove the engine as i cant stress it is an extremely tight fit within the engine bay and getting to and changing engine sensors, starter motor, checking pipe work behind engine will be nigh on impossible without this option..



rear section added.. oil based K&N air filter, all water pipes rubber hosed and jubilee clipped & connected and wiring linked up to ECU ignition battery etc also overflow bottle.. shes ready to fire up as a test!!! after i fitted a tractor battery that was!! originally i had to jump her to start due to the mass power required to the starter motor!!




I told you it was close.. no more than 1 inch!!




water temp, boost and tacho added as well as empi quick shifter. during testin water temp spent most of its life up at 110.. ouch!!! no gasket gone though and had a lucky escape after roadside test from RAC!!!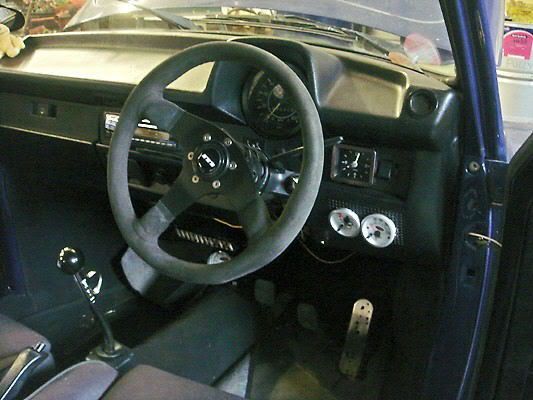 not a great deal of ground clearance here!! the oil sump is the lowest point.. german lookers are low as it is so i knew it was going to be tight maybe a shortened sump in the future but ok for now and have had no problems with speed humps and the like!!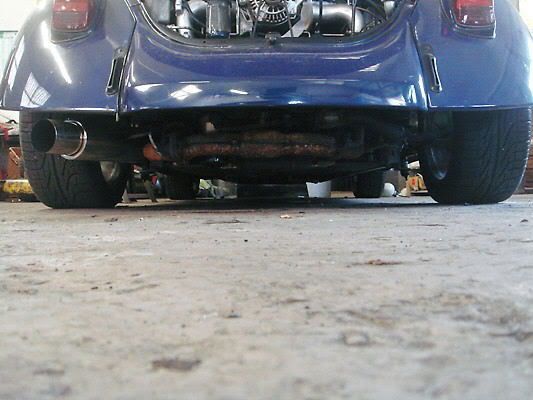 cooling was very difficult on this project.. having it up and running is one thing but keeping her cool when you have to consider that...
1) water/coolant 50/50 mixture has long way to move from rear to front and back to engine and i had a real nightmare with airlocks so AVOID KNUCKLE BENDS AT ALL COSTS!!
2) adjusting fan switch in front to predict when water at engine at rear is too hot is largely trial and error, this is because original legacy engine is obviously placed right next too rads and airflow by that matter!! you have to balance natural airflow with the operation of the suction fan and the key is to set the fan to engage at the point when airflow becomes insufficient.
3) keeping her cool with suction fan at idle is the easy part but the most difficult part for me was using air flow effectively and channeling it into and through the rads.. obviously the original air cooled beetle did not consider this at all!! its important to give any natural airflow no alternative but to flow through the radiator.. you can do this with the use of grills and or effective shrouding to trap the airflow..
so.....




BMW black carbon kidney grills ideal for the job and sit nicely either side of the bonnet lid...
shrouding that screws in for access was also created to sit tight over the rads and fan and direct airflow through giving it no other alternative.. in this pic you can also see the kidney grills with aluminium funnel attached to the back which channels air into the shrouding and through rads accordingly..hasnt been over 100 degees c since fitted!! and i know its a personal thing but i like the look of these grills as they are black subtle and fit in with the overall theme.. others may disagree but for me it works.. The most important thing was setting up this car the way I wanted it..


here is the latest pic of the shrouding and cooling system at the front now it has been painted using black hammerite.. quite tidy!!


from the front with vitaloni baby turbo wing mirrors added also..



engine bracing completed using a Custom Speed Parts adjustable trapeeze system... not cheap but fitted perfectly despite rumours on the internet to the contrary suggesting this system would not bypass A TURBO SET UP... well, it does!!... just!! and improves handling massively and avoids the disastrous wheel hop often instigated by hard pull aways.. if you can imagine that the frame horns are taking all the extra weight of the scooby engine then you could argue that its absolutely imperative to support them with bracing especially considering the xtra 100+ bhp being employed as well......LIFT OFF!!!
I would advise anyone doing this project to fit engine bracing otherwise it is likely you will go through gearboxes like George Bush gest through verbal fo pars!!
tight fit around the turbo but no adjustments to down pipe required..



and from the other side you can see where the brace links up to the frame horns to strengthen the core..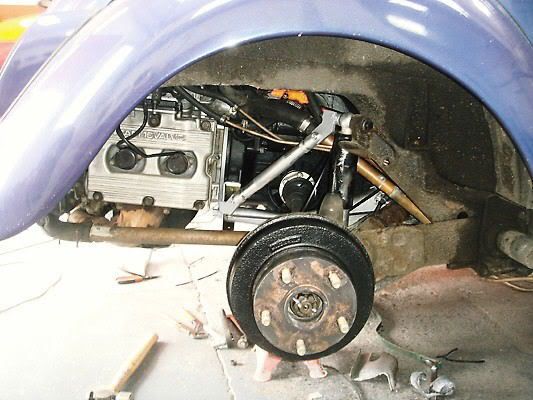 so to all intensive purposes this project is complete but as you know they never really are as there is always something else to do!! LIKE FIT AN STI ENGINE or uprate the turbo or boost!! HA HA shes MOTd insured taxed and on a road near you water cooled dubbers and compadres so i look forward to seeing you at shows no doubt. this is currently how my beast looks at present day..


with the heart of the beast exposed ready for a 0-60 in 4.4!! thanks ricola for the statulator..i also have a VOS chip added to the ECU so am running at a predicted 240bhp although I am yet to have this on a rolling road to cement this figure.. the VOS chip basically ups boost to around 16 psi which is why it has been so important for me to ensure i get enough fuel to the engine at the rear. However i have also tested with a standard ECU and i still experienced hesitation under boost so its important that fuel pump used has the power AND that you increase the size of the fuel tank outlet. The first time i drove it i almost broke my neck and gave myself whiplash through the pure unadulterated torque!! I cant recommend this project enough and am so pleased i stumbled accros the VWKD website to inspire this conversion... but be prepared for a gruelling, costly and time consuming ride to complete your dream!! I CAN CONFIRM NOW THAT YOU WILL HAVE TEETHING TROUBLES AND THERE WILL BE POINTS WHEN YOU WISH YOU WOULD NEVER HAVE STARTED THIS PROJECT BECAUSE YOU HAVE GONE OVER BUDGET AND ITS TAKEN SO MUCH TIME AND DEDICATION!!! BUT NEVER GIVE UP BECAUSE I HAVE BEEN THROUGH THIS AND SOLVED THESE SNAGS AND HAVE DRIVEN IT AT FULL POTENTIAL AND ITS BEEN THE GREATEST COLLECTIVE DRIVING EXPERIENCE OF MY LIFE!!! wether its the high average speed fast economical cross country driving that attracts you or the raw acceleration or making your beautiful old VW comparable to modern day performance cars or the vast jaw dropping reactions and attention you'll get at traffic lights, petrol stations, VW shows and moterways as you whiz past with that distinctive subaru thunderous rumble.. whatever it is, when you finally get there you wont look back!!


see you around soon ... peace out..




Edit by Elusive (22-4-08)

Joodge has asked me to insert this: